installations, works, sound projects
Paradoxically just photos, in many cases, because sometimes I think that for this type of sound installation the old adage "you had to be there" is fatally pertinent.
SLEEPER: Castiadas, Sardinia, Sept 09
view
REHEARSAL: Santo Sepolcro crypt, Cagliari, Nov 09
view installation
STORYVILLE: large public sound installation project (with Gak Sato) for holiday season in Bergamo Italy, 2008-09 (five urban listening points and five shop windows with transducers)
view project
WALLS HAVE EARS: sound art pavilion curated by Steve Piccolo with Gak Sato for ArtVerona 2008
view project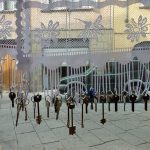 GLOBAL WIND: public art installation by Steve Piccolo and Gak Sato for MUSA project, Quartiere Roma, City of Piacenza.
view project
INNOTATO at [un]defined festival, Merano, July 2010, with students from Accademia Carrara di Bergamo (see album for list)
view project
also check out video of first time-lapse audio experiment by Steve, OHRBLICK
ORACLE at Club 21: Remaking the Scene, One Marylebone, London, exhibition curated by Oxana Maleeva / Art Apart during (and right next to) Frieze Art Fair 2010. The steel urn contains little beads that rattle when a transducer reinjects the recorded sound of the same urn being tapped with the fingers or rubbed with a tuning fork. The fact that the sounds come from the urn's natural frequency makes a feedback effect that moves the beads. A voice is morphed into the sound pronouncing verbs that cycle randomly and seem almost never to repeat. The first verb the visitor understands is the Oracle's answer to his/her question. Photo on the right.
Below is a photo of the Oracle in another setting, in the exhibition "I Miss My Enemies", collateral event of the Venice Biennale, 2011.
UrbaNature Festival of Imperial Gardens, St. Petersburg, Russia, June 2011.
Next to a cool digital flowerbed (known as the 'fish' to locals) by Caturegli-Formica, Steve Piccolo and Gak Sato installed sounds that morph from nature to machinery and back, not so subtly hidden in a big garbage bag under a handy caption board. The effect, which had to vie with all kinds of Italian music from Vasco Rossi to Puccini for this event of the program of the "year of Italy in Russia", was actually pretty engaging, breaking all our usual rules for this sort of public art piece. To hear a poor replica of the on-site effect visit http://www.undo.net/it/ilsuonodellarte — click on "troppo artificio?".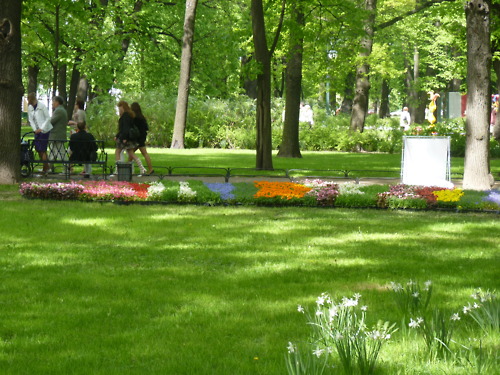 The Bell, an installation shown in the exhibition "I Miss My Enemies", collateral event of Venice Biennale 2011, and the show "Carta Bianca Milano", Villa Croce Museum, Genoa, 2012. A song I wrote many years ago about Cold War atomic air raid drills in elementary school is presented as "sound art" along with a children's school desk and a photograph of dramatic sky over the sea near St. Petersburg, Russia.
This photo is from Venice:
and this one is from Genoa:
Panic Box (Bordeaux-Montreal)
For pictures and full documentation of the Bordeaux phase of this project see the Residencies page on this site, in the section on Evento Bordeaux 2011.
The vocal sounds collected in Bordeaux were used for an 8-channel installation in Montreal, at the one-night sound events hosted by 24 Gauche in March, 2012. Playback was done with donated boomboxes and cassette decks, installed with the help of Yves Sheriff (in pic below).
Michael's Fire for Contemporary Locus 2, Bergamo, double solo show with Anna Franceschini, curated by Paola Tognon with Paola Vischetti, at the Canoniere di San Giacomo.
This project is impossible to document visually, since the cavernous spaces under the fortified walls of the old city were pitch dark. Visitors explored a few at a time, with flashlights. The spaces had lots of graffiti on the walls and had evidently been used as a kind of secret hide-out by teenagers in the past. There are three spaces in an ascending path: a large space with stucco walls, that reverberates, steps leading to a door that leads to a smaller space with stone walls and deader acoustics, which ends in a hole in the wall through which you can glimpse yet another space, inaccessible. In the initial large space I put boards, terracotta construction rubble and mats of reeds, materials that formed a path and made noise underfoot. We built a makeshift lounge out of objects found in the trash, a table, chairs, drawers, trunks. Along the steps four small portable CD players reproduced an ever-changing composition of vocal sounds (no words) made by kids. Anna's two videos formed luminous thresholds through which to pass on the way to the top. At the top, through the big hole in the wall, you could see a lightbox with a sunrise or sunset color blur, a shot taken through a train window of countryside near Bergamo, accompanied by spatialized and almost loud sounds, wind, rumblings, crows, a burning fuse.
Everything was tied together by a story about a childhood experience in a similar subterranean clubhouse.
For more info see: http://www.contemporarylocus.it/?p=82
For more pictures see: http://spstudio.tumblr.com