further explorations in the multisensory artscape
sounds of museums II
second cycle
Slowly but surely completing the archives of recorded sounds in artspaces, with impressions and considerations.
Ragnar Kjartansson, under the High Line in Chelsea, Nov. 2007
For ten consecutive days, six hours a day, Icelandic artist Ragnar Kjartansson stood in an empty parking lot under the as-yet-abandoned High Line in Chelsea, surrounded by cardboard cutout trees, singing and playing a vaguely drifting song in an unknown muttered language, almost a fragment or caricature of a song. When I happened to walk by a very cold wind was blowing in off the river, and Chelsea was almost deserted. I felt sorry for him, alone in the advancing dusk in his Elvis outfit with a nice guitar. But I've been told that in other moments during the week he had a big, appreciative audience. Since then I've recorded several sound works by this artist, who always seems to find a very engaging way to disrupt normal exhibition practice.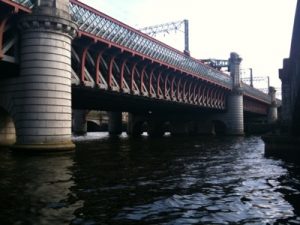 Susan Philipsz 2010
This time the Turner Prize went to Susan Philipsz for a pure sound work. Though she has often worked in other media, the press immediately dubbed her a "sound artist". The shortlisted work, entitled "Lowlands", is a traditional Scottish song sung a capella by the artist herself, in three slightly varied versions, originally placed in installations under three bridges in Glasgow, where they generated a truly magical effect (the recording heard here, in fact, is from Glasgow). The choice of "showing" the work at the Tate Britain in a white room, in the show of the four shortlisted artists, with the speakers somewhat artificially pointed toward different corners of the space, revealed a parodox intrinsic to the whole operation. The artist, in fact, has not composed a sound piece, nor has she manipulated found sounds. She simply sings a song, with a certain "natural", some might say "artless" approach. What the prize rewards is not so much the ingenuity of the artist in the creation of sounds (and the song heard in a museum was rather insignificant, though pleasant enough) as her "curatorial" ability… the choice of the work to be shown (the traditional song), of the place in which to show it (the three bridges) and the design of the installation. The organization Artangel, in a timely operation, has produced a series of site-specific works by Philipsz in London; more songs sung by the artist, heard in well-selected places, with excellent, even moving results. For more info: http://www.artangel.org.uk/projects/2010/surround_me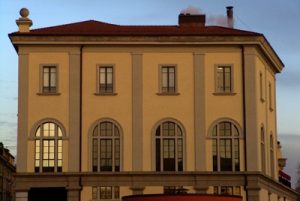 Lara Favaretto, recording 29/11/2009 at MAMBo, Bologna
At 17:45 a big round of applause (the sound work titled Voce Comune by Lara Favaretto) signals the imminent closing of the museum, a place where the acoustic aspects of contemporary art are usually managed with a certain sensitivity. On this visit the place was almost disquietingly silent, perhaps to avoid interference with the temporary exhibition in progress on the level below that of the permanent collection. I happened to be with a friend who hates contemporary art (one of those people who say they "can't understand it"). He enthusiastically joined in the cheering. A liberation. And, finally, a work he could understand.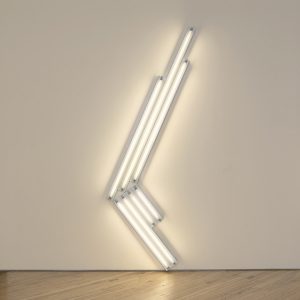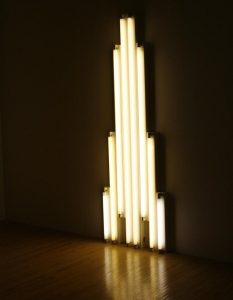 Dan Flavin, DIA: Beacon, Riggio Galleries, Beacon, New York
recorded 26/6/2008 by Ricciarda Belgiojoso
Does light have a voice? Close your eyes and get almost dangerously close to the fluorescent tubes of the Tatlin monument series by Dan Flavin to find out. They emit combinations of frequencies in flux, subtle and rather seductive modulations. A work that wasn't perhaps intentionally built to sing, but… there are lots of these almost accidental soundworks out there in artland. Another good example are the sculptures that use refrigerator compressors to 'frost' metal parts, by Pier Paolo Calzolari.
Alan Rath, Yes, Yes, Yes!
BRYCE WOLKOWITZ GALLERY, NYC, during Armory Show 2012
recorded 11/3/2012, 01'54"
The long tendril-like feathers of this waving creature couldn't help catching the eyes of passers-by in Chelsea, which is probably why the thing was there, in spite of the fact that its lovely sounds were overwhelmed by those of the traffic on the street. Strangely enough, whoever put a film of this kinetic sculpture up on Vimeo actually neglected to put the sound as well, though it is a very important component of the work. This is a case of digitally controlled movement in which the mechanism makes sounds that do not seem purely necessary for its functioning. The sounds of operation have been somehow enhanced, I would guess, to add personality to the object. Listen through to the end, where the machine gets downright orchestral.

Shelley Burgon, Sound Chandelier
Spring Break Art Show, Old School, Mott St. NYC
recorded 11/3/2012, 01'03"
Ms. Burgon says she thinks of herself more as a musician than a sound artist. Nevertheless her contribution to this very interesting show (probably the best thing we saw on the big off-Armory circuit) is a Sound Chandelier, very homemade with inexpensive piezo disks for speakers, running off what looks like Ableton Live. As in the piece by Alan Rath, the sounds are tinny, but this time instead of orchestral hints, the references are old-school aliens and birdsong. The piece worked very well in the space (like the name says, an old school-house), in a show dominated by inventive and usually rather low-budget art (at least compared to the stuff at the fair).
EVENTO BORDEAUX
(art pour une ré-évolution urbaine), 6 – 16 October 2011
recorded 6/10/2011, 01'47"
The challenge faced by director Michelangelo Pistoletto, I've been told, was to make the Biennial "Evento Bordeaux" 2011 into something that would truly engage an entire city, not just a restricted artworld audience. The major effort of social "outreach" was a rare case of going beyond good intentions and lip service, producing very concrete interaction between art and the local population. Sound/music was a big part of this successful strategy.
An intense program of exhibitions, concerts, workshops, impromptu gatherings in public places, sound parades, including forays into outlying suburbs usually overlooked by major cultural happenings. The whole sound/music program was organized with the help of Sound Res. The list of names is too long to include here; in the recording you're hearing the great Sikh singer Madan Gopal Singh, who also worked together with contemporary musicians in a number of concerts, then a small snip of the nocturnal sound parade with hundreds of "boomboxes" by Phil Kline (one of his Unsilent works, electronic compositions split into many parts on cassette or CD played on boomboxes carried by people walking around the city in a large group, a series that began in 1992 in NY for Christmas).
The last sample is from Panic Box by Steve Piccolo, part of the mix for Radio Grenoble of hundreds of vocal non-verbal recordings made in total solitude and privacy by residents of the Grand Parc suburb of Bordeaux.
Dublin Contemporary, 6 September – 31 October 2011. Curators Jota Castro and Christian Viveros-Fauné
Dublin Contemporary was the debut of another major contemporary art event on the international stage, and a successful attempt to get the whole city involved, attracting a wider audience than might have been expected. The main part of the show was in a former college facility that had been closed for some time, left more or less intact. Footsteps on the old wooden floors were a constant, pleasant sound feature, as the abandoned rather ghostly spaces echoed with new life. There were many intriguing multisensorial pieces involving sound. Here we will document just a few of them.
recorded on 31/10/2011, 00'59"
Carola Muecke, Physical Cosmology
A rather unassuming work in a small back room unexpectedly reveals, upon further study (like many of the works in this show) a narrative side that adds real depth to the experience of the work (even in retrospect). A not-too-slick wall sculpture that looks something like a makeshift launching pad for homemade rockets emits embarrassed, disarmingly human sounding hiccups at irregular intervals. In the daunting conceptual density of a large group show this work seems to opt for a particular strategy, limiting its physical impact to a sort of suggestion, planting a seed for further exploration that happens in another, more private space and time frame. A visit to the artist's website reveals links to a short story and an essay (not by the artist) "inspired by" Physical Cosmology.

NEVAN LAHART, WANKRUPTCY
also at Dublin Contemporary 2011
recorded 31/10/2011, 00'43"
Made entirely with materials found on site, according to a tweet from Dublin Contemp, this installation is right in toon with the neo-povera tone of the show. Its sonic moment is a sort of geyser of beverage cans that erupt noisily out of a cardboard crater complete with menacing toy missiles, thanks to a powerful fan.
MARK CLARE, FOR ALL MANKIND
also at Dublin Contemporary 2011
recorded 31/10/2011, 01'29"
A sort of forest of ticking tinfoil flowers or satellite dishes on folding tripods, where every so often one of the kitchen timers that do the ticking goes off. An immersive experience that blends nicely with the music seeping in from a neighboring video (Arvo Part?).
PENDING mp3

BOLOGNA ARTEFIERA / ENTRANCE TURNSTILES
The most interesting sound installation at ArteFiera 2018, the annual art fair in Bologna, was right at the entrance, where barcodes on tickets get read and/or often rejected by the sensors on the turnstiles. Turnstiles in Italian are called "tornelli" which sounds a lot like a kind of pasta. Hence Tornelli alla Bolognese… Bolognese sauce is basically what they call "ragù" from the French "ragout." During the years of Fascism, the regime tried to eliminate all words of foreign origin from the Italian language (an insane mission, since maybe all words come from somewhere else). Their solution for the ragù sauce cherished all over Italy was a very ugly word no one ever used, except for laughs: "ragutto"!
In the photo: a microphone hidden in the old stone walls of Bologna…