Concentrate
Limited edition for book by Nathalie Du Pasquier 2006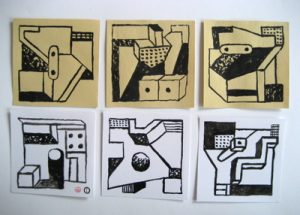 Steve Piccolo and Gak Sato have prepared a recording to accompany an exhibition and book by painter Nathalie Du Pasquier. The voices in the mix are all friends of the artist who were invited to contribute vocal sound bites. Some just spoke of their reaction to the art, others decided as a group to record a list of words indicating objects in the paintings. Amazingly enough, of about a dozen people present we had a dozen different mother tongues. Hence the Babelic result.
Pino Guidolotti, on the other hand, arrived with the idea of a singing a song. When asked what it had to do with the show he said, "Nothing, it's my problem". At least nine different versions of Cole Porter's "I Concentrate on You" have found their way into the mix.
The CD has been issued in a limited edition of 100 copies with handmade, signed covers.
See more on Nathalie Du Pasquier here